- Fri Aug 14, 2015 12:44 am
#3775
Please note: This is my first proper colony, so most of this is new to me.
I do doubt if Queen Myrcella of Ruginodis was a newly bedded princess when I captured her, or in fact had just left her kingdom for a walk in the gardens, but either way, she is certainly fertile.
I caught her pre-nuptial flights. She was wandering around the nest entrance of my garden's Myrmica ruginodis, with two worker servants accompanying her. This leads me to believe she was one of several queens in the polygynous colony, and is less than semi-claustral (still forages). I housed her and her two worker friends in a test tube connected to a small foraging area.
Moments after catching them: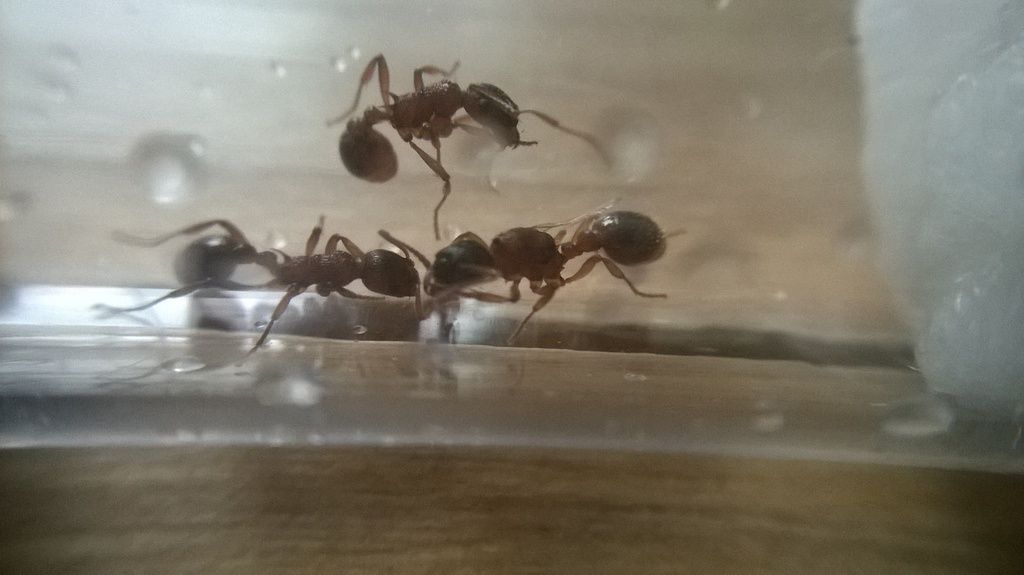 After a week or so, they were moved into a sectioned-off area of a plastic tank:
Myrcella went straight to the house fly:
I quickly learned their personalities, and then realised how insane that was. But nevertheless: Myrcella is a tom boy (who's really an Arya), best mates with another tom boy worker (Mycah), and the third worker is a little Sansa. For those not familiar with GOT, Myrcella and Mycah would go out trying to escape and hunt, while Sansa stayed in the tube grooming herself.
Mycah and Sansa:
A few days after moving into my semi-secure setup, Mycah escaped, leaving Arya-Myrcella without her Mycah (sound familiar?). This (Mum) prompted me to fully secure the setup.
A few days ago, I removed the test tube and connected it to the tank with a small bit of tubing. The hole in the tank was the right size for the tubing, but I had to use some creativity to fit the tube securely into the test tube. Also - no air bubbles.
Moving into the new test tube:
Three weeks after catching her, I thought I'd have a proper look at Myrcella in her chambers. Then, to my shock, I discover that the grains of sand are actually eggs. I wasn't expecting eggs until March, so this seems to prove my original theory.
Last edited by
Dan
on Mon Aug 31, 2015 7:04 pm, edited 1 time in total.